Guild Member Laurie Duxbury will teach two workshops at the Yadkin Valley Fiber Room, in Elkin, NC.
Baby it's Cold Outside! Summer and Winter, January 18, 19 & 20, 2019
Summer and Winter is a classic weave structure that was historically used to produce warm coverlets. Today's fibers and colors allow us to adapt it to contemporary uses. In this workshop, students will learn the basics of Summer and Winter, explore fun variations on the basics, and learn to use the structure in designing and planning original works. Students will weave on their own looms, which they will have warped before the class. Enjoy a weekend weaving with friends old and new while you learn this timeless technique.
This class is for anyone who can warp a loom independently. Workshop handouts and lunch on Saturday and Sunday are included in the workshop fee.
Workshop starts at 1 pm on Friday and runs all day on Saturday and Sunday.
Total cost of workshop is $295 with a $50 nonrefundable deposit to hold your space.
Also, Overshot with Laurie, March 22,23 & 24, 2019.
Visit their website to register at yadkinvalleyfiberroom.com/course-offerings/course-descriptions/
For additional information regarding the Yadkin Valley Fiber Room's course offerings, please contact Leslie Fesperman via the Yadkin Valley Fiber Room's Contact page.
---
Tapestry Weaving at Joan Griffin Tapestry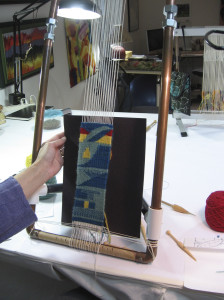 Hello Fellow Guild Members…
The new year is the time we think about our creative directions and new ideas for the coming year. I am offering several tapestry sessions for anyone who is interested.
I think it is important to have a good foundation in the basics of tapestry weaving so that a student can then move on to a more personal expression using the techniques they have learned.  The classes are held in a friendly, learning atmosphere in my studio in order to see a working studio as well as the opportunity to try various types and sizes of tapestry looms. Students also have access to a large library of tapestry books, different kinds of yarns and various approaches to designing.
My 2 day class  concentrates on the basic techniques of tapestry weaving on a portable loom. We cover the basics of tapestry weaving such as warping the loom, finishing and various design shaping techniques. Tapestry weaving is a unique , timeless technique but can be adapted in a multitude of colorful ways to the challenges of contemporary designs. Each student will take home a  tapestry sampler they completed during the weekend for future reference. Students may also take their loom home to continue work for a few weeks and then easily ship back to me if not local.
Classes are 10-4 on Sat. and 10 – 4 on Sunday. $198 for both days and all supplies included. A student only needs to bring lunch each day.
No previous tapestry experience is necessary. The classes are very very small so that each person has the necessary personal attention.
Contact me via email to register in advance at joangriffintapestry@gmail.com
2018 classes are complete for this year. Please check back, or visit the website for 2019 classes.
Consider trying tapestry!
Joan Griffin
Charlottesville VA
www.joangriffintapestry.com/