To add items to our website, calendar, and newsletter, please use the Event Submittal Form.
---
Working with Wool: Wet Felting and creating a relationship with fiber
Saturday, March 28, 1-6pm, Shenandoah Valley Art Center, Waynesboro, VA
Wool craft is a primal and intuitive relationship practiced for its utility, artistry, and necessity. In this hands-on workshop, we will explore both the historical and contemporary contexts of fiber through the lens of wet felting.
Wet felting is a simple, accessible, and physical process used to bind wool fibers together to create clothing, rugs, blankets, and tapestries. The process will encourage students to learn through their bodies and to consider the ecology of interacting with wool. Wet felting can be a physically strenuous task, though the instructor can provide modifications to the process to make it accessible for a range of abilities. Please reach out if you have questions or concerns about this. All materials and tools will be provided. Students are asked to bring a bath-sized towel.
Workshop cost is $120 ($90 for instruction + $30 for materials). All materials, including locally-sourced wool, soap, and felting mat are provided. Open to full or partial trade of skills, services, or goods in place of workshop fee. Please email me for more information. To register, please email hanigoskytaylor@gmail.com. Include any questions and any previous experience working with fiber.
Deadline to register is one week before the class. To pay the instruction and materials fee, students can send the whole amount through Paypal using the above email address, or can bring a check to class.  Download a flyer.
---
Weaving the Unexpected with Alternative Materials with Anastasia Azure
Handweavers Guild of the New River Valley, Roanoke, VA
Friday and Saturday, April 3 and 4, 2020. Workshop will begin promptly at 9 am each day-please arrive no later than 8:45 am.
Cost $180 HWGNRV member $205 non-member
Questions? Please call Linda Hayes 540-599-6400 or email riverbendlady@gmail.com
Workshop Description: Tackle the challenge of loom weaving using unconventional materials such as plastics and wire. Each Participant will dress a loom with a fishing line warp and play with plastics and wire in the weft. Basic weave structures such as tabby and twill will allow for courageous experimentations with new materials. Finishing techniques will be covered. Projects may evolve into small sculptures or jewelry.
This workshop is limited to the first 12 people who register and submit payment. A materials fee of $25 is required at the time of the workshop and will be paid to the instructor.
Level: Advanced Beginner- participants must be able to warp a loom independently and fully understand the basics of 4-shaft weaving. The required tools and material list will be provided to each participant upon confirmation of registration.
Download a flyer.
To register, please click here.
---
Tapestry Weaving at Joan Griffin Tapestry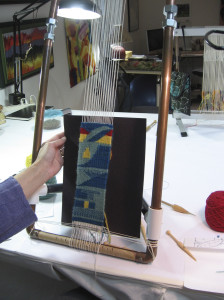 Hello Fellow Guild Members…
The new year is the time we think about our creative directions and new ideas for the coming year.
I think it is important to have a good foundation in the basics of tapestry weaving so that a student can then move on to a more personal expression using the techniques they have learned.  The classes are held in a friendly, learning atmosphere in my studio in order to see a working studio as well as the opportunity to try various types and sizes of tapestry looms. Students also have access to a large library of tapestry books, different kinds of yarns and various approaches to designing.
The  2 day class  concentrates on the basic techniques of tapestry weaving on a portable loom. We cover the basics of tapestry weaving such as warping the loom, finishing and various design shaping techniques. Tapestry weaving is a unique , timeless technique but can be adapted in a multitude of colorful ways to the challenges of contemporary designs. Each student will take home a  tapestry sampler they completed during the weekend for future reference. Students may also take their loom home to continue work for a few weeks and then easily ship back to me if not local.
Classes are 10-4 on Sat. and 10 – 4 on Sunday. $200 for both days and all supplies included. A student only needs to bring lunch each day.
No previous tapestry experience is necessary. The classes are very very small so that each person has the necessary personal attention.  Visit the website for class dates.  Contact me by email to register in advance at joangriffintapestry@gmail.com
Consider trying tapestry!
Joan Griffin
Charlottesville, VA
www.joangriffintapestry.com/
---
Augusta Heritage Center at Davis & Elkins College, Elkins, WV
Week-long craft and folklore workshops are offered throughout the summer session alongside music and dance workshops, concerts, public dances, and special presentations that cover the history and literature of many traditions.  More info on their website at augustaheritagecenter.org/craft/
---
Yadkin Valley Fiber Center, in Elkin, NC.
For additional information regarding the Yadkin Valley Fiber Center's course offerings, or to register for classes, visit their website at yadkinvalleyfibercenter.org/, or contact Leslie Fesperman at yadkinvalleyfibercenter@gmail.com..